We catch up with Emily following her first grading, together with 13 of her fellow students at Harpenden JKA.
You've just completed your first karate grading – exciting?
Well … yes, but the thought of standing up in front of the examining Senseis, and a largish audience of families and friends, was a bit daunting! To be honest, I felt very out of my comfort zone. But, I was so chuffed to have been entered for my first karate grading. My overriding feeling was wanting to do well and progress – and also do our Senseis proud!
How did you prepare for 'Big Saturday'?
I was one of 13 from our club grading so, in the weeks leading up to the karate grading, we focused on everyone's syllabus. For us beginners, it was basic techniques and Kihon Kata.
We had a mock grading during the last week's training so we knew exactly what to expect on the day. As Sensei Miranda said, you have enough to worry about without fretting about where to stand and how to behave! Like any exam (and I've done a fair few in my time!) it's knowing what the examiners are looking for. But with karate, it's also important to be respectful and follow the proper process.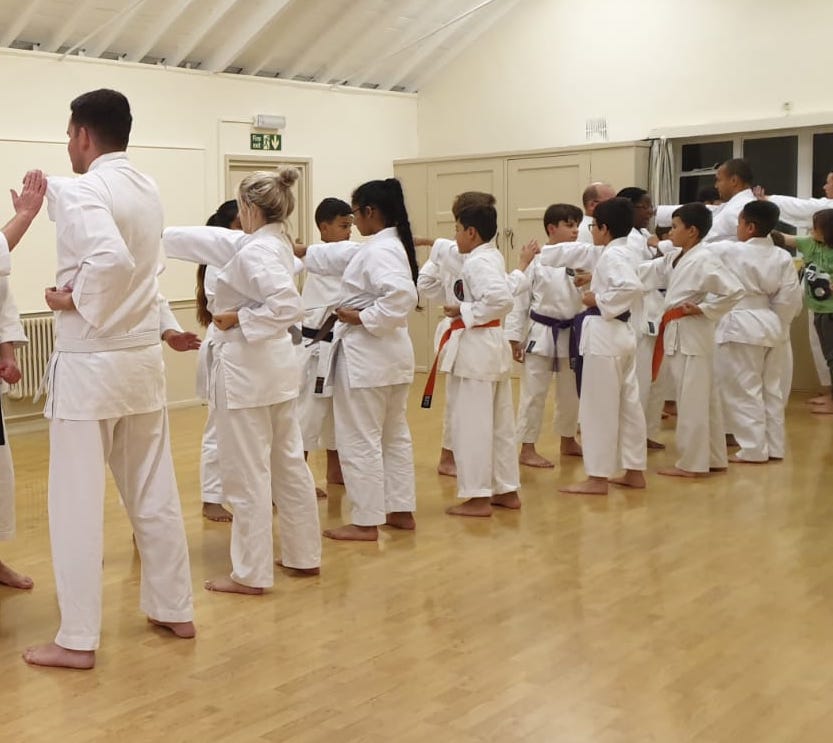 Perfecting our techniques using each other as targets
And on the day?
After a week of nerves and butterflies, my first karate grading turned out to be such a fun and relaxed experience. (I know, weird isn't it!) We had a really inspiring and supportive training session beforehand with Sensei Adel Ismail, 6th Dan, our senior examiner for the day. I also sat in on the senior training session, and the amount of laughter and poking fun at each other instantly helped me relax. It's so much easier to learn with inspiring instructors who allow you to have fun at the same time. The morning training session really helped me get in the zone. By the time the grading started at 2pm, I felt more relaxed and ready to get up and do my best.
I was extremely nervous at my mock grading, and it definitely showed in my kata! But I was reassured by everyone that it would be okay on the day. In our final Thursday session, extra care was taken to address the particular technical issues for each student, and smooth out any last minute fears we might have.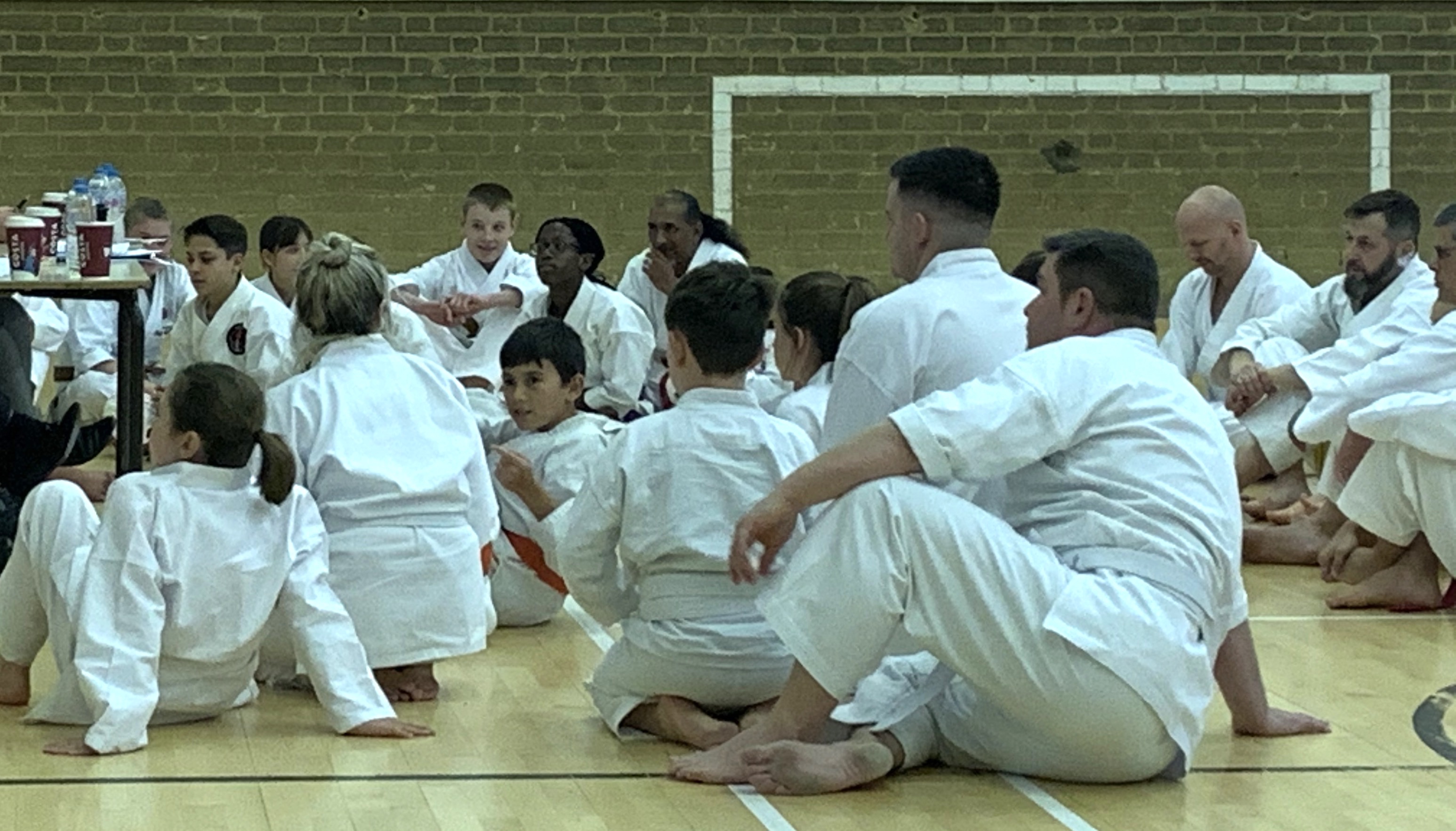 So, has all our hard work paid off? (And did they really drink all that coffee…)
You passed!
We all did – all 13 of us! I'm now the proud wearer of an orange belt as are Nick, Chris and Ronan so we're embarking on our karate journey together. Our Harpenden Karate Club shared the grading with Stevenage JKA so there were quite a few students hoping to change the colour of their belts. Beginners (white belts) were up first. The examiners gave us every chance to do our very best and I can't believe how soon it was over! After our grading, we sat and watched the other coloured belts (up to brown) take their grading. As you'd imagine, the level of skill and technical ability expected by the examiners increased as the colour of the belts got darker. It was very impressive but I was definitely relieved to have been up first because I could relax and watch the other gradings.
What did you take away from your first karate grading?
An orange belt! But also an even greater enthusiasm for karate and feeling so much a part of it. We all encouraged each other which certainly helped me through my grading. Despite my nerves, it was an incredible day. Such a mix of ages, gender and cultures – and there was me worried that I might not fit in – too old (I'm in my 20s!) and female.
Everyone who entered from Harpenden Karate club passed their grading which is a great achievement all round. And I'm already looking forward to my next one…
And next?
The JKAE Open Championships! (I know!)