"I'm so proud of being a black belt"
Zahra is one of our young black belts, having graded in 2022 at the age of 16. She joined Harpenden JKA in 2019 as a 2nd kyu, and trained hard under Chief Instructor Sensei Miranda to reach Shodan level. Then, to cap it all, in January 2023, Zahra was invited to join the England Squad. "I'm so proud of being a black belt. We all train really hard at Harpenden JKA but it's the support and friendliness of Sensei Miranda's club that helps keep me on track. Oh, and her teasing, of course! And now, it's all led to me being a very proud member of the JKA England Squad." Zahra was 7 when she started her karate career: "As a family, we're great fans of karate so it was natural that I should start young. Apart from a gap of a few years, I've been training pretty regularly since then."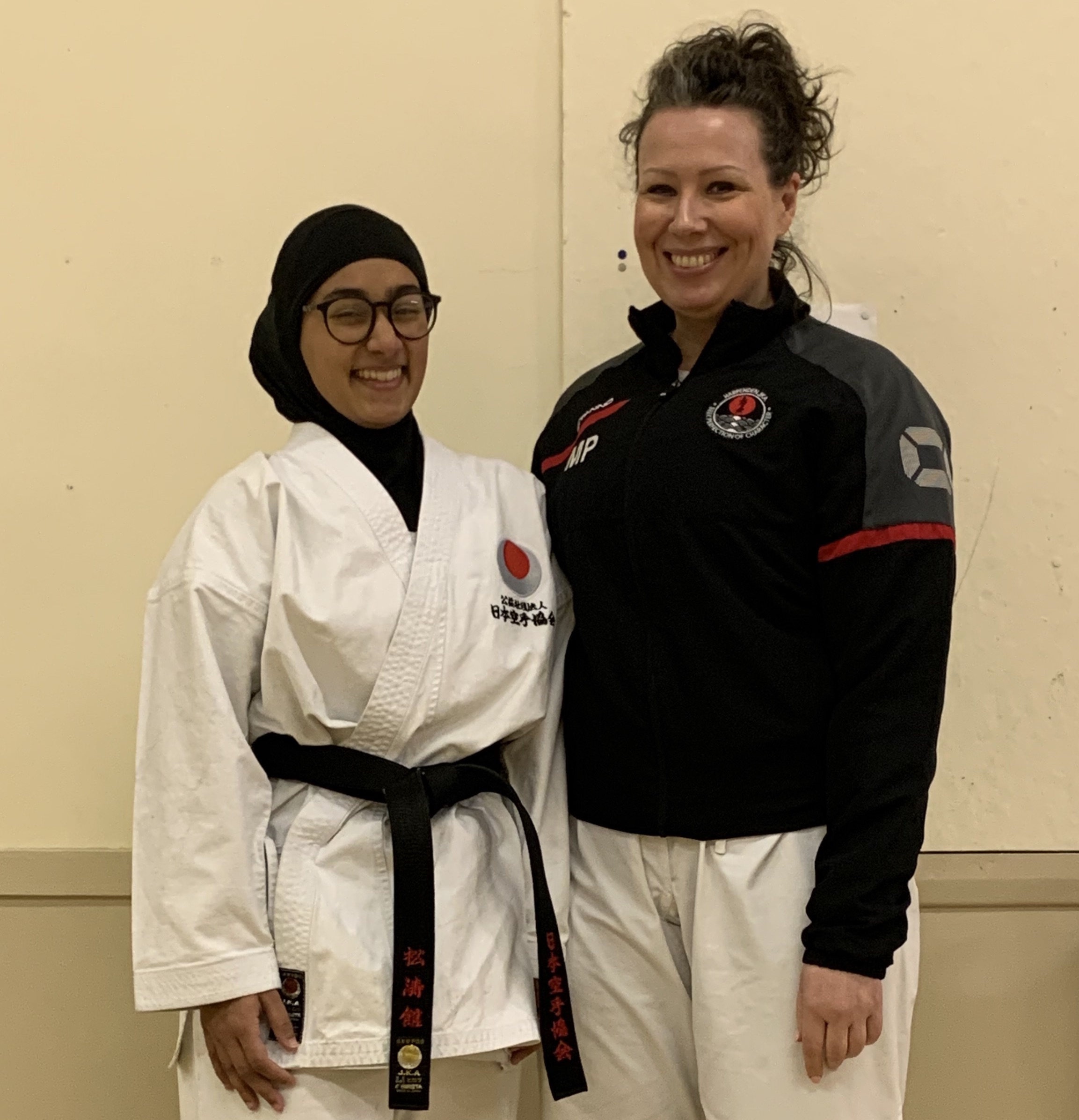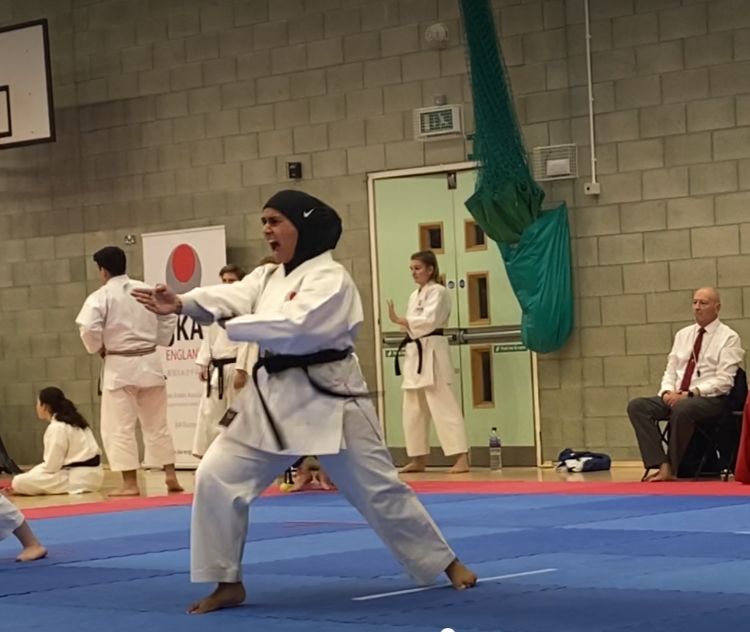 ^Competing at one of the JKA's many competitions
<With Sensei Miranda
The JKA karate family
"I've made so many friends through my home club, Harpenden JKA, including at courses and competitions. Karate is the common factor so it's easy to talk to people, even if it is just to grumble about blisters, and aches and pains…" Zahra has trained at Colchester (Sensei Matt Graves), and Stevenage (Sensei Steve Rowe and Sensei Steve Deal) JKA clubs, and she feels certain that karate will always feature in her life. Building on her confidence, fitness and self-defence are really important to her but so is being part of the bigger JKA karate family.
How karate fits in with Zahra's faith and studies
"I'm a Muslim and it's no big deal with the club, or the JKA in general. I've not come across any prejudice and I feel really comfortable training. I wear a sports hijab, and arm and leg sleeves under my gi. This means I am reassured about my modesty without it restricting me, or making me too hot." Being female isn't an issue in the JKA either because there are lots of women and girls training as karate students. Sensei Miranda is proud that around half of Harpenden JKA's 100+ students are female: "It's great that we have so many girls and women training. But then our dojo doors are open to everyone: all ages, genders and cultural backgrounds. My philosophy is simple: come and train with us in this fabulous martial art – have fun, keep fit and gain confidence in your own self-defence."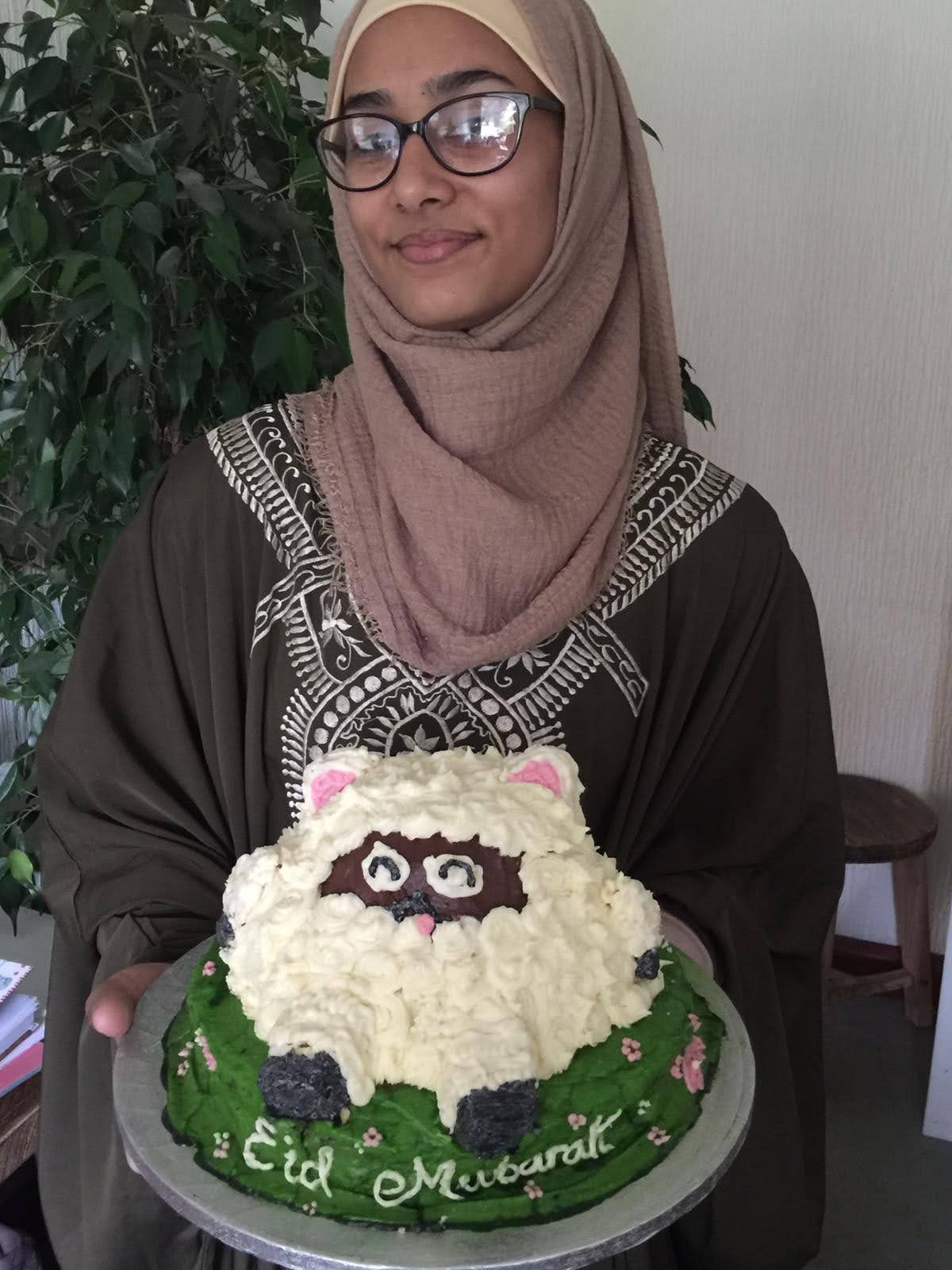 Zahra likes cooking. Sometimes she remembers to bring us some.
Zahra's pretty fearless except when having a fit of the giggles
It's true that karate does require a certain amount of mental discipline. Not a problem for Zahra who is working towards a career in medicine, specifically neuro surgery. (She's also an online chess tutor.) As she points out, karate also rewards you with the thrill of kumite and trying to outwit your opponent. Says Sensei Miranda: "Zahra is a great student – totally deserving of her black belt and her place on the England Squad. She's pretty fearless except when having a fit of the giggles. She's also a bit of a drama queen and we love her for it."